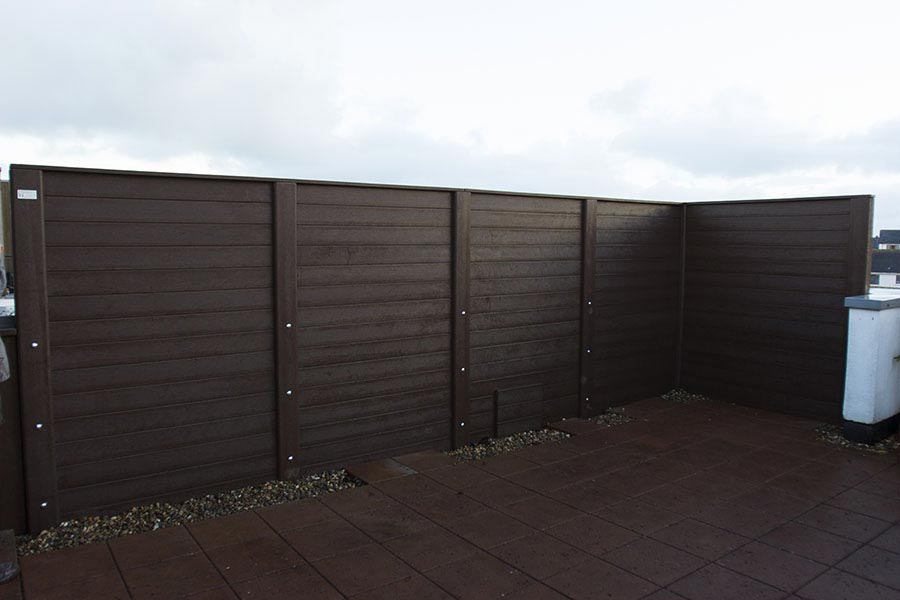 Recycled Plastic Fence Panels
We recently installed Our Recycled Plastic Fence Panels in a top floor penthouse suite in Clongriffin Dublin. The client had one problem – wind. As the penthouse was quiet high up you can imagine the wind was much stronger, which meant our client could not enjoy her balcony. Our solution – Recycled Plastic Fence Panels.
Building Fence Panels from Recycled Plastic
We put lots of time into planning and testing before the final product is ready to be constructed, it was a great experience for our Manufacturers and challenging too but with time, effort, and pride in their work the Fence Panels were secured to the wall for added support and strength completed using 100% recycled plastic tongue and groove Boards and H Beams with Steel centre for extra strength. We here at Irish Recycled Products always try to push ourselves to be innovative and creative to meet a challenge head on we are one of Ireland's Biggest Suppliers of Recycled Plastic Products and that's down to good workmanship and great Customers.
How long does it take to install Recycled Plastic Fence Panels?
We strive to complete all orders as soon as possible as this is a custom project all install times will differ from first point of contact to finished product this particular project took 2 weeks as we took measurements and started preparations in our workshop to ensure a quick and faultless install.
Please visit our fencing page or contact us to find more information about Recycled Plastic Fence panels.