Last year we got a call from a customer interested in having their Deck replaced with a 100% Recycled Plastic Maintenance Free Deck. As a young family, they loved that their deck provided them with an outdoor room in the good weather, but it was time to change their old wooden one, and they wanted a maintenance free option.
After we sent an estimate based on pictures and measurements via email, the client decided they would like to go ahead with a free site survey. At the free site survey the client decided to add some extras to their deck such as Handrails, a ramp and some benches.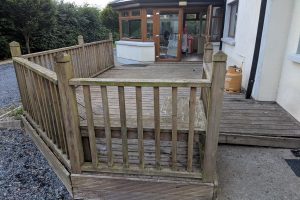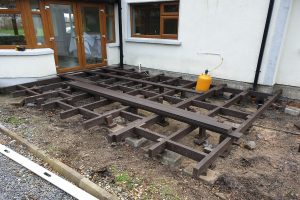 As this was a large deck our technicians chose to separate the Job into three parts.
They went one day to remove the old decking that was in place. They then brought all the material that they had removed back to the workshop in Birr so that the old wood can be recycled in the recycling centre across from our workshop.
They could then prepare as much as possible in the workshop here in Birr. This included cutting the 100% recycled Plastic Boards for the frame and the deck. They were also able to construct the handrails requested by the customer.
All this preparation work meant that the new deck could be fitted in one day which limited the disturbance to the family.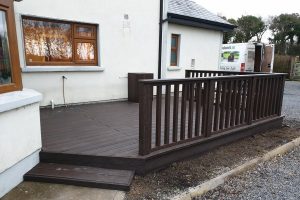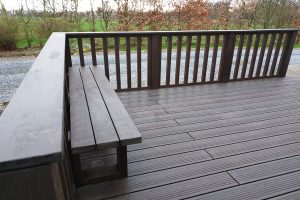 Our Customers now have a new deck which their young family will be able to enjoy for at least the next 20 years.