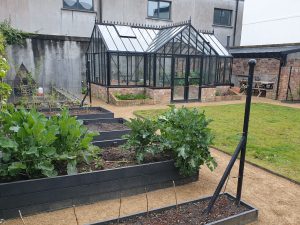 Bespoke Raised beds made from 100% recycled plastic
With everyone staying home last year due to Covid-19 we saw an increase in the amount of raised beds being ordered. One such order came from a customer that we have been dealing with since 2014, who wished to expand their selection of 100% Recycled Plastic raised beds. This customer has created a beautiful (and fruitful) garden within Galway city, which just shows you don't need acres of land to begin your journey into fruit and vegetable growth.
How can I get bespoke Raised Beds?
We have a selection of standard raised beds, but we generally get more orders for bespoke beds as people are often replacing old wooden ones that have become rotten over the years. Our beds are usually made from 100% Recycled Plastic Tongue and Groove Boards with the top tongue removed to give it a smooth edge, however, if this doesn't suit your needs, we can make them from different profiles to achieve different dimensions.
If you would like a quote for bespoke raised beds all you have to do is call us on 0579123828, or send an email to sales@irishrecycledproducts.ie
What are the Benefits?
Raised beds are a great way to make gardening more accessible for people. They can be built up to a height that suits your needs so that your back is not strained by constantly having to reach to the ground.
Using raised beds means that you get better Aeration, and drainage than if you just planted straight into the ground. It also means that the nutrients in your soil are not being robbed by the roots of nearby trees.
The recycled plastic (Plastic Timber) won't splinter, crack or absorb water, so no loss of moisture to the soil will be experienced. No chemicals from the HDPE recycled plastic used will leech into the soil, this means they are perfectly safe for growing fruit, vegetables, or herbs.