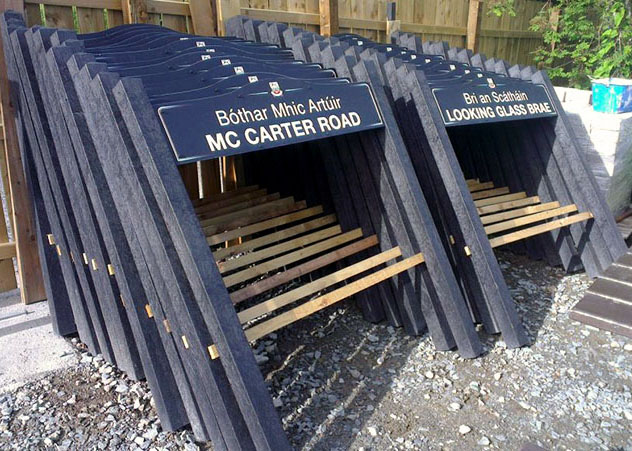 Street Signs for Buncranna
Here at Irish Recycled Products we cater for everyone from Outdoor Furniture to Street Signs we have got you covered, No more Maintenance sanding or treating our Recycled Plastic is 100% waterproof, chip, crack and vandal proof all Irish Recycled Products come with a no quibble 20 yearr Guarantee and as they will never rot we don't think you'll ever need to avail of it.

Do we source the Signs?
Yes , we source our plaque's and signs locally from The Print Factory right here in Birr, Co. Offaly so you don't have to, think of us as a one stop shop we will acquire a proof of signs then forward it to you to confirm design, once happy we will then place the order and begin manufacturing your street signs.
What are the Benefits?
All Products are hand crafted by our craftsmen with great attention to detail and care, and are made from 100% Recycled Plastic which is Maintenance Free, Chip, Crack and vandal proof it will never rot and is impervious to all weather conditions if that's not enough all Irish Recycled Products come with a 20 year no quibble Guarantee that were confident you will never need.