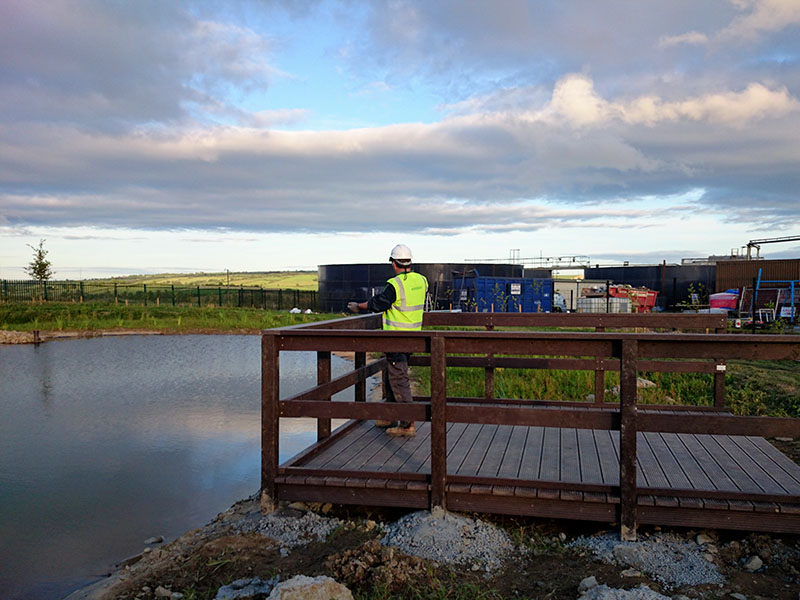 Observation Deck – Bandon, Cork
We recently completed an Observation Deck using non slip 100% Recycled Plastic boards. The sub – structure and Hand Rails were also made from recycled plastic. First the posts were aligned and secured in concrete to add strength and support to the structure once concrete had set we returned to install the sub-structure made sure it was level and strong before laying our Non Slip Recycled Plastic Decking Boards once laid we then built or Hand Railings for safety and comfort so you can enjoy the serene view.
Why Plastic is perfect for Marine Applications
Recycled Plastic Boards are the ideal solution to all marine projects as they are 100% waterproof, chip, crack and splinter proof and will never rot or naturally Bio-degrade and as our Recycled Plastic Decking Boards are Non Slip with grooves for added resistance all safety concerns are answered.
We have a broad range of products to suit all projects from Pontoons, Seaside Boardwalks, Jetty's and Observation Decks Irish Recycled Products has the solution our range of Profiles include Recycled Plastic Piles, Crossbeams, Runners, and our Non Slip Recycled Plastic Decking Boards.
What are the Benefits?
All Products are hand crafted by our craftsmen with great attention to detail and care, and are made from 100% Recycled Plastic which is Maintenance Free, Chip, Crack and vandal proof it will never rot and is impervious to all weather conditions if that's not enough all Irish Recycled Products come with a 20 year no quibble Guarantee that were confident you will never need.